PayPal
Please donate straight from PayPal! Just use your credit card, debit card, or checking account number and funds will be deposited directly for the cats in need!

What if Happy Tails Cat Sanctuary earned a penny every time you searched the Internet? Well, now we can!
GoodSearch.com is a new search engine that donates half its revenue, about a penny per search, to the charities its users designate. You use it just as you would any search engine, and it's powered by Yahoo!, so you get great results.
Just go to www.goodsearch.com and be sure to enter Happy Tails Cat Sanctuary (the first option that pops up) as the charity you want to support. Just 500 of us searching four times a day will raise about $7300 in a year without anyone spending a dime! And, be sure to spread the word!
Tax-Deductible Contributions:
Please mail checks or money orders to Happy Tails Cat Sanctuary at P.O. Box 581, Chesterland, OH 44026.
The sanctuary is a 501(c)(3) non-profit charitable organization, so your donations are tax deductable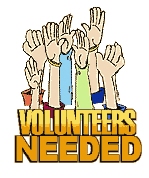 Our Wish List:
• Volunteers
• Foster Families
• Large (Single-Wheel) Wheel Barrow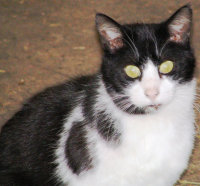 • Revolution medication to treat fleas and ear mites
• Advantage and/or Frontline medication
• "Have-a-Heart" Traps
• Paper Towels & Bleach
• Washable Cat Beds
• Paper Plates
• Dry Cat Food (Prefer Purina)
• Canned Cat Food (prefer Friskies or Nine Lives)
• Clean Towels/Blankets/Robes (new or gently used)
• Washable Bathroom Accessories (rugs, seat covers etc.)
• Garbage Bags
• Litter (prefer scoopable)
Volunteer
The Happy Tails Cat Sanctuary needs more volunteers. If you cannot adopt or foster cats or kittens, please consider donating some of your time to help the kitties who live here.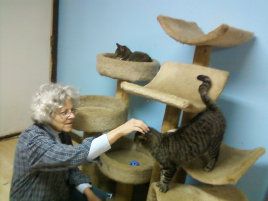 Volunteer Diane Craine pets "Faith" while "Zelda" relaxes on another part of a piece of multi-level cat furniture at the Happy Tails Cat Sanctuary in Chesterland.
Other Ways You Can Help:
Jeanne Bones, the founder and director of Happy Tails, is not wealthy, but she has spent a great deal of money over the years out of her own pocket to help the sanctuary's rescued cats, and she is grateful for any help she receives from volunteers or donations. Her haven for homeless cats of all ages is filled to capacity and is facing the ever-increasing costs of veterinary services, food and utilities.